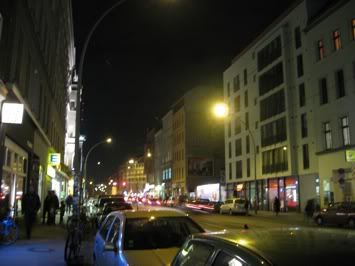 if you are under 40 and living berlin my guess is you are an artist. I am new to the scene but I do know that there are a few good gallery districts/areas to view art and meet other artsy types and this (brunnenstraße) might be the best when it comes to popping in and out and making the rounds. I always enjoy a mild walk, no in and out car/subway transport and a plethora of good shops, restaurants and bars all mixed in. although this street still holds some invading yuppie charm, it is a good place to see a wide variety of works and people - just think of taking one street of chelsea, ny in comparison. the berlin art scene is on the up-and-up and one can definitely feel the energy and lack of pretentiousness or snobbery.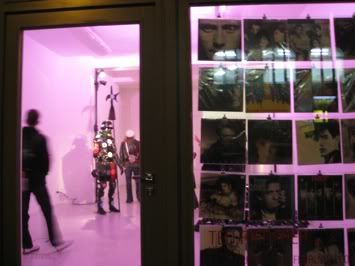 goff & rosenthal -
ted riederer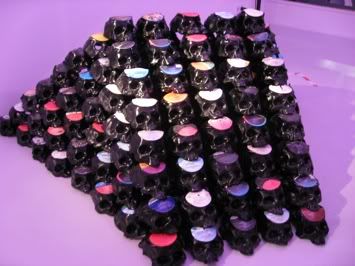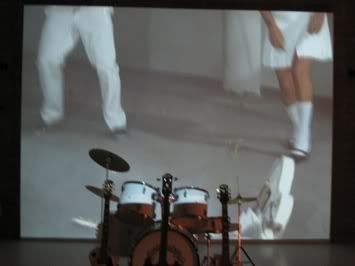 ***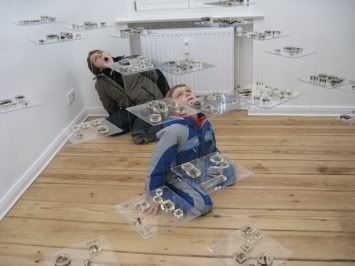 galerie gilian morris
- jenny michel
no, these kids weren't part of the exhibit but they should be!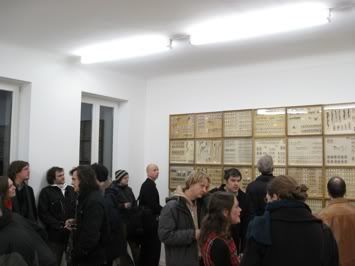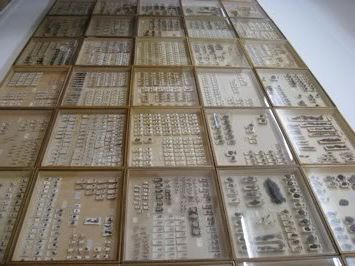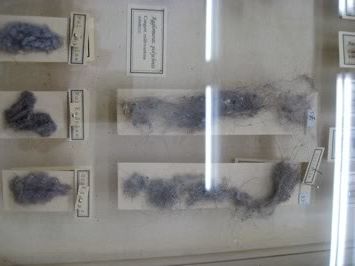 all dust/lint samples that are carefully documented!
***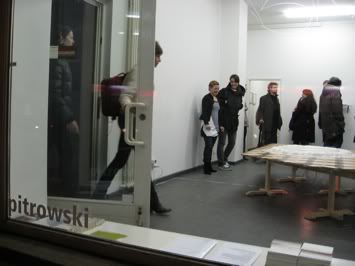 pitrowski gallery
- veronika rettich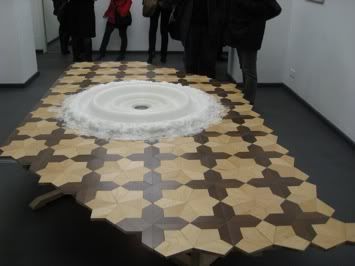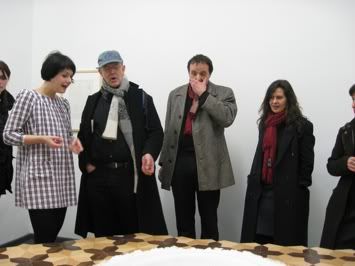 I truly enjoy seeing berlin gallerists explain art to americans. speaking of english, I believe I heard more english than german in most of the galleries. everyone here seems to be transplanted from somewhere else. the openings are filled with many, many artists - this city is an artists' haven!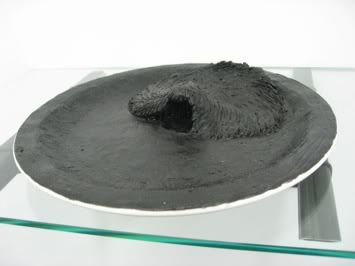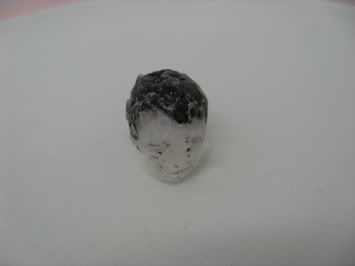 ***
birgit ostermeier
- roman lipski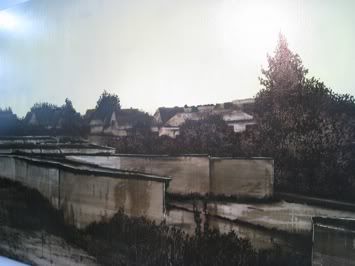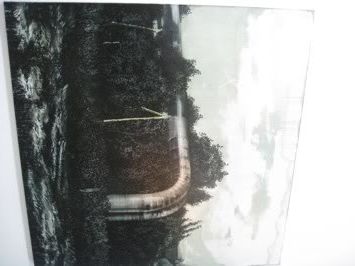 ***
foto-shop
berlin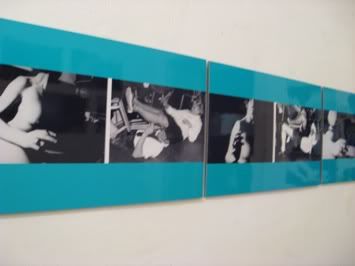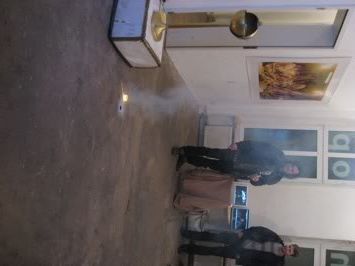 ***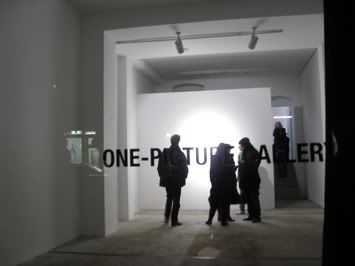 nice & fit/one picture gallery -
alexander buhler
what is everyone huddeled around?... just one piece?... in the whole gallery?
yup.
and what a snide, delightfully mocking piece to walk across the gallery to view.
***
nice & fit -
Angela Mewes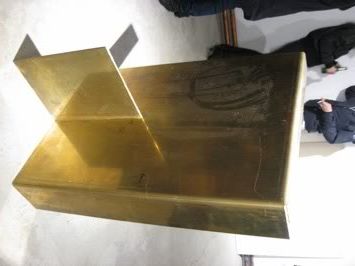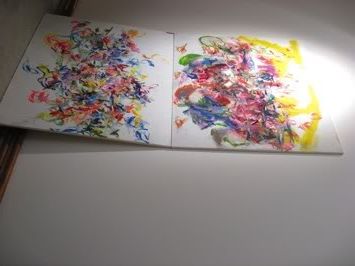 this opening really reminded me of art back in detroit, specifically cranbrook and ccs students' works of florescent colors, geometric planes, sculptural fabric that divided space. gotta give a holla for the leaning canvas - haven't seen this since back home! maybe berlin isn't so different.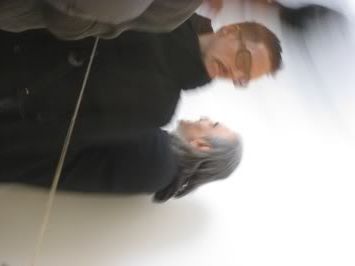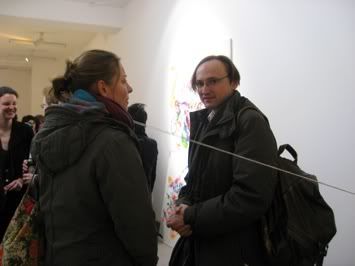 this piece of string holding up one of the corners of the fabric tension sculpture was the best part of the show. sure, it tied all the bright, fragmented paintings together and made the space feel as one complete installation but the room divide was even more dynamic. during the crowded opening, viewers had to dart underneath the string to get around the gallery and it was wonderful when it made for awkward, split conversation. I want to have a show with just a single string dividing the room in two!
***
parrotta contemporary art
-
Claus Larsen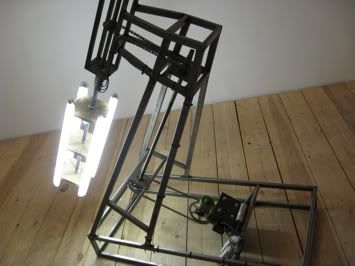 ***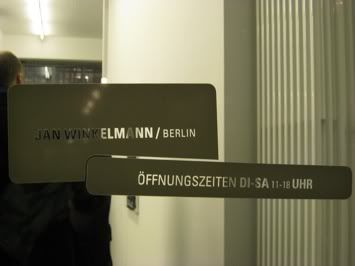 jan winkelmann
-
dennis loesch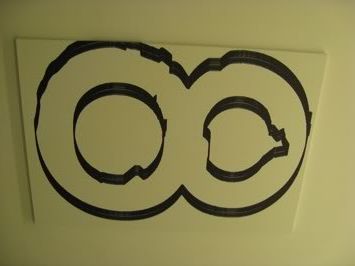 ***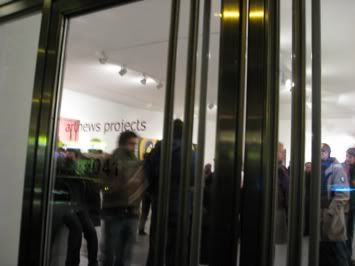 artnews projects
-
2041 curated by birgit ostermeier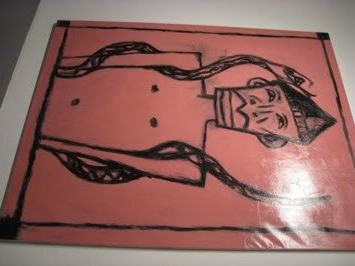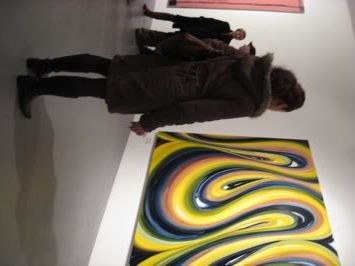 much, much more to come...
roman singer
...peres projects...berlin fashion week....
(ps - for berliners who would like to check out my old blog — and the detroit art scene c. 2005-7 — see http://www.detroitartsblog.com)