jonathan meese

23 Januar 1970

and georg baselitz

23 Janar 1938
The new space (but not new gallery) in berlin's mitte district, just next to museum island,
opened only last year
! This central location is rebuilding and becoming the hub of arts, history and culture. Just north are tons of contemporary galleries and around the corner are the big modern art and history museums.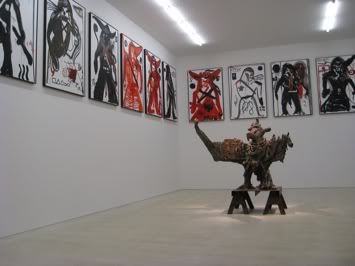 As big as jonathan meese is in the contemporary art market, this show was not a let down. First off the space is great - expansive, light-filled, contemporary...you know, chelsea-new york-like. I have seen meese's works in person in the mix of international shows like art basel, but seeing his works in berlin, large scale, in series, alone in one big room, was quite impressive - even for an art pessimist like me. I remember when an art friend said, "hey have you checked out jonathan meese's portraits...they're great...". So I looked online that night to find pictures like this:
I didn't know whether to be scared and think they were by the devil or worship them! I ended up the same week making them my "screen savers" at my work, thus I think sending a strange message to my adult co-workers.
Living in berlin really does add to the experience...and apparently I wasn't alone. This show has captured the eyes of collectors because even on an off day seeing the show, there still were couples scouting the works. Coming from a sleepy collecting town of detroit, this was an encouraging site to see!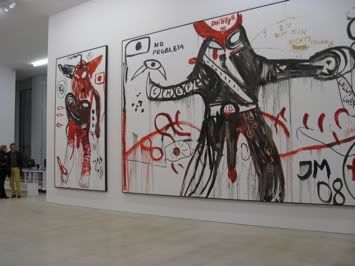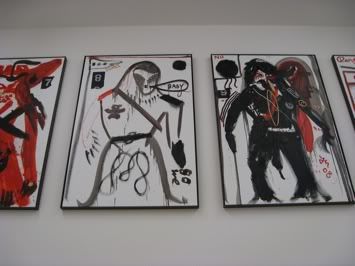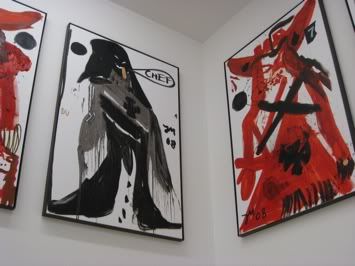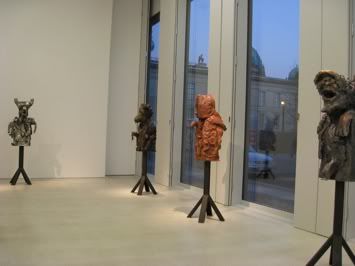 The show, a birthday celebration theme, also celebrated works by georg baselitz - a great balance to see one floor up. The mostly recent works by baselitz were also huge and figurative like meese's. While the titles didn't imply, I saw them as hitler-like, break dancing men - very intentionally simplistic, a little funny, and morbid; a nice dichotomy with meese and a perfect show with "same birthdays". This was a high level, big name show, with a good premise, that could have instantly gone too gimmicky but prevailed with strong, comparatively curated works!